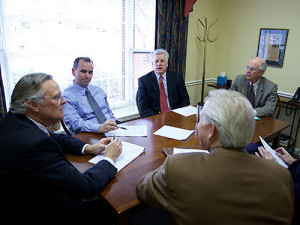 Salem Investment Counselors was founded in 1979 upon the cornerstone of personalized account management. From the beginning, our goal was to help individuals, families and companies realize their financial goals through a prosperous and long-term relationship with their advisor.
We are one of the largest private financial counseling firms in the southeast and serve clients throughout the United States and the world. Located in Winston-Salem, North Carolina, our firm has a professional staff with more than 150 years of combined investment experience, including experience in major investment, trust, accounting, and law firms. We serve the entire range of investment and financial planning needs of individuals, families and companies.
For more than thirty years, we have succeeded by continually satisfying our clients. Thanks to those existing relationships, we have also grown in size through new client referrals. The assets under our management have grown from $50 million in 1982 to more than $1.6 billion today.