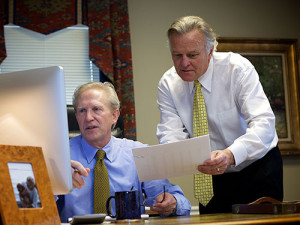 Once we understand your specific financial needs and goals, we design a portfolio to meet your objectives. Although our experience includes real estate, energy, venture capital, and other areas, we believe that common stocks should be the foundation of most investment portfolios. We do not believe that "timing" the stock market – anticipating periods of rising and falling stock prices – can be done consistently and successfully. We select common stocks for investments that have one or more of the following characteristics:
Established companies with above-average prospects for growth. These companies will have strong performance records, solid market positions, high margins and return on equity, and reasonable financial strength.
Small and medium-sized companies that may be out of favor or not closely followed by investors and are selling at prices that do not adequately reflect their long-term business potential.
Companies in industries that are undergoing consolidation, where the likelihood of acquisitions is above average.
Our philosophy, with respect to fixed income investing, is to minimize risk for our clients. We consider only high-quality issues in the short-term to intermediate-term maturity range. We aggressively seek the highest yields available among bonds with these characteristics.